Frequently Asked Questions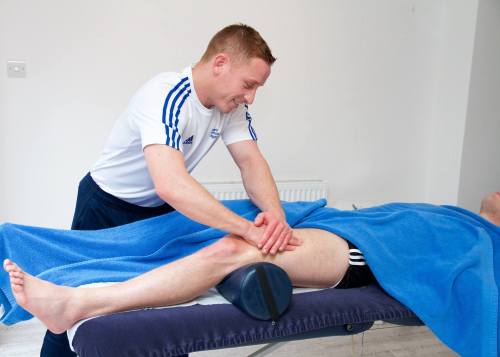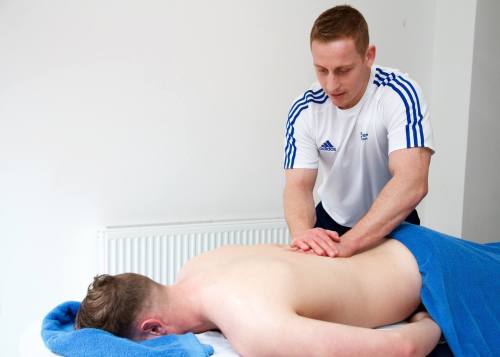 What is a sports massage?
Sports massage is physical therapy used to enhance muscles. It is a deeper massage, which repairs muscle fibres and knots. This deep tissue massage reduces postural problems and tension, and stops aches, pain, and cramp in the body. It clears the muscle cells of waste products from exercise, increasing recovery and performance. A sports massage will physiologically improve muscle function. Sports massage is also known as a deep tissue massage. It is vital in recovery from injuries such as muscle strains, back ache, neck pain, sciatica, hip mobility, shoulder problems, stiff legs, sore knees, tight calves, and many more.
How does a sports massage reduce and prevent injury?
Sports massage helps any soft tissue/muscular related injury. When injured, sports massage can reduce pain and healing time by decreasing the tightness and scar tissue built up within the muscle, as well as increasing blood flow to the area. A sports massage releases tight areas in muscles that cause a reduction in movement. These tight areas affect muscle imbalances and posture problems leading to aches, pain and injury. A lack of flexibility in muscle is one of the main causes of strain injuries within sport and exercise. Deep tissue massage (sports massage) breaks down knots within musces that cause discomfort.
Where is the massage done?
Sports Massage Brighton is a mobile massage therapy service that travels to you! The massage couch is set up wherever has good space within your house/work place. You can listen to music, watch TV, or relax in silence. All massage equipment is provided - couch, towels, oil etc. If there is no space where you are, Sports Massage Brighton can work from an injury clinic based in the Freedom Leisure Gym in Hassocks. Contact us for details.
Who should have a sports massage?
Anyone can benefit from a sports massage, athlete to office worker. Useful for people in discomfort from day-to-day, sports people who suffer tired or tight aching muscles, or anyone looking to relax and recover. Regular exercise can lead to muscular problems and injury as muscles become shortened and flexibility decreases. People recovering from injury can improve healing with a sports massage, whilst non-sports people can have a sports massage to reduce postural tightness, which can be caused through simple things like sitting at a desk or driving too much. Any serious sports person should have a sports massage to improve performance, and anyone serious about their health should get a sports massage to function better biologically.
When is the best time to receive a sports massage?
The short answer, anytime! You're probably not looking after yourself enough! If you have a chronic, dull muscular ache contact Sports Massage Brighton straight away to ease the pain. If you are regularly active, sports massage is useful to condition your muscles. If participating in a sporting event, the week before is an ideal time for a softer sports massage to get the muscles loose and in physically peak condition. Straight after an event is best for a deeper sports massage to reduce lactic acid build up and correct muscular tightness that overtime can lead to bigger injury problems if left untreated.
What should I wear?
Shorts or underwear is the norm. I have large towels so you will be covered at all times. Females receiving a back massage can keep as much or as little top/bra on/off as they wish. I step out of the room while you get yourself onto the massage couch.
How will I feel after treatment?
The deep tissue massage will leave the area treated feeling loosened with reduced tension and tightness. It will energise the muscles and reduce aches. Flexibility of the muscles will be increased following sports massage treatment allowing more movement.
What should I do after treatment?
The best thing to do after a sports massage is to stretch the tight muscle(s), and drink some water to flush out the waste products from the body. You are safe to exercise after a sports massage.
How often should I have a sports massage?
The more active you are, the more important it is to receive a sports/deep tissue massage. You're prob not getting one enough! Tight muscles from sport or exercise require frequent attention. People who exercise regularly should receive a sports massage to keep the muscles healthy, which avoids potential long-term injuries from muscle shortening. People recovering from injury will benefit from regular deep tissue treatment/advice while working towards full fitness.
Why use Sports Massage Brighton?
Sports Massage Brighton is a professional mobile therapy service in Sussex. Patrick travels to your house with all necessary equipment. No travelling, no parking, no waste of time. Patrick has first hand experience of regular sport and exercise, and receives regular sports massage treatments on himself. Therefore, he is aware of why it is so important and how it feels on the body. Not only does Patrick provide quality sports massage/deep tissue massage treatment, he will also prescibe stretches and/or strengthening work to help decrease recovery time. Patrick also regularly updates his continued professional development. He has public liability insurance and is DBS (CRB) checked. Sports Massage Brighton is not a sexual service.
What about Personal Training?
As well as providing a sports massage therapy service, Sports Massage Brighton can also offer mobile Personal Training sessions. Patrick from Sports Massage Brighton is a qualified level 4 Personal Trainer and Strength and Conditioning coach, which is the highest possible level. Patrick's personal training sessions specialise on working towards fitness for sporting events and can also be useful for injury recovery and rehabilitation work. Patrick can bring the gym to you with a range of exercise equipment. More info here: www.personaltrainingmidsussex.co.uk.
What are the business opening hours?
Sports massage/deep tissue massage treatments are available Monday to Friday 8am-6pm. Weekends and Bank holidays are closed. Phone/text/emails all available to contact.
Is there any reason why I shouldn't have treatment?
There are a few contradications, which I will check with you before hand (e.g. allergies/medical history). A sports massage/deep tissue massage helps anything related to the muscular system and is a safe form of physical therapy treatment. If you have any further questions please do not hesitate to Contact us for details.